23.-24. March, Norgesfilm was present with a stand at Bibliotekmøtet 2022 (national library conference) to promote the streaming service Filmoteket. Bibliotekmøtet was held at Clarion Hotel The Hub in central Oslo and at Deichman Bjørvika. 
Filmoteket at national library conference
Bibliotekmøtet is arranged every other year and is the largest library conference held in Norway. Over 125 libraries, which together cover ⅔ of the country's population, have already started using Filmoteket and offer the service to their patrons, so this conference was therefore a great opportunity to meet both current and potential customers, partners and other industry professionals..
- The pandemic has suspended the opportunity to attend conferences, demonstrate the service via a stand at the libraries, conduct traditional customer meetings and otherwise meet all those we work with. To finally be able to meet many of these physically was therefore a brilliant supplement to the dialogue via telephone, web meetings and e-mail. And then it's extra fun when you experience a lot of energy and enthusiasm, and that the libraries are really happy with how their digital film service is received among the patrons and colleagues, says CEO at Norgesfilm, Anders Koppang-Grønn. 
With a red carpet, popcorn machine, film screening, sweets and competition with great prizes, it should be well done not to see us. The film library received a lot of praise, as did Filmrommet which more and more libraries use for film screenings at the library ('kinotek'). Great input for potential improvements was also received and will be followed up in near future. 
- We are incredibly grateful for the close collaboration we have with so many libraries, and we see that the experience and input for improvements continuously contribute to strengthening both the catalog and the technical service, says Koppang-Grønn.
Popular competition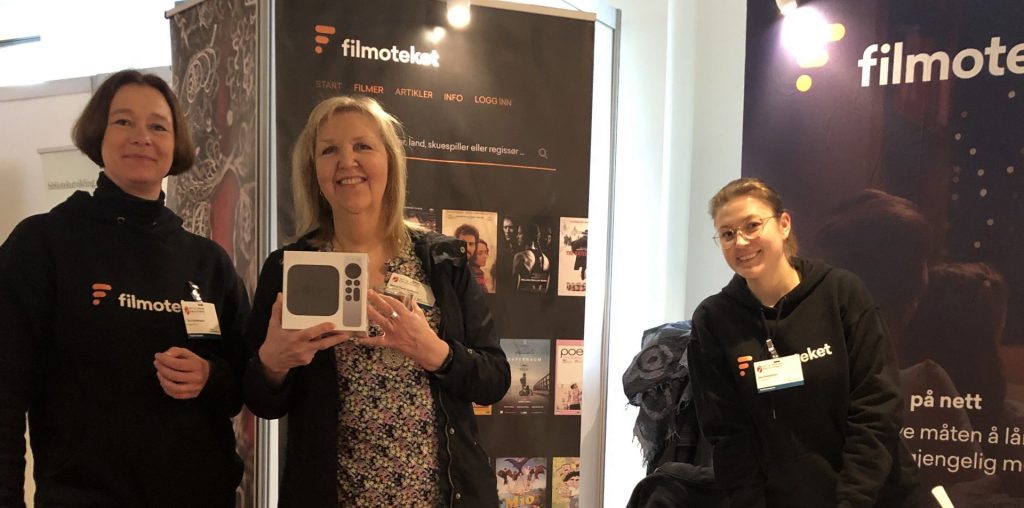 During the library conference, we also had a competition at our stand, where you scanned a QR code with your mobile and then answered three questions about Filmoteket. The competition became very popular, and we got over 50 participants!
One lucky winner walked away with the grand prize; a brand new Apple TV.